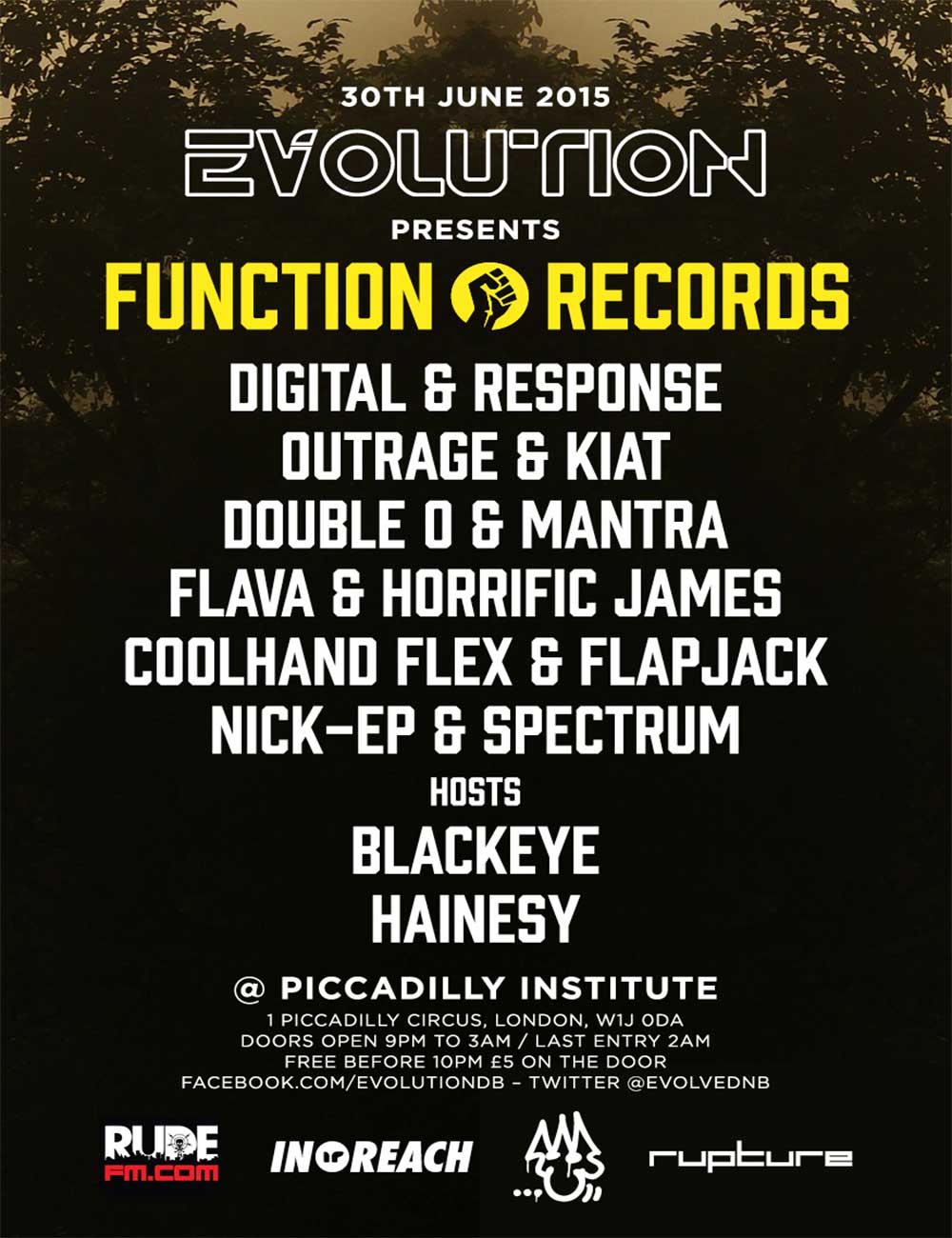 Function Records night - June 30th @ Evolution - Piccadilly Institute, 1 Piccadilly Circus, W1JODA
Published on 27-May-2015.
Digital and the Function Records crew bring the vibes with tracks old, new and fresh from the studio.
Nick EP + Spectrum
https://www.facebook.com/InReachCo
These guys are up to date on all things DnB and they show that with their informative website In - Reach.
Cool Hand Flex + Flapjack
https://www.facebook.com/flexdeunderground
This set screams old skool to me however, I've heard some of their new tracks and they're sounding FRESH! Both Dj's have been at it for years with Flex producing DNB in the early years that helped shape our scene.
Flapjack is a legend around East Anglia and he's one of the first jungle dj's I remember from Ipswich, in fact the first dj turntables I played on were his. He was resident at Desire and he's played at a number of raves over the years.
Flava + Horrific James
https://www.facebook.com/horrificrecordings
Flava and Horrific James have been around DNB a long time so I've pulled them into the studio to put some of their knowledge and amazing vibes on wax. Look out for the forthcoming Digital, Flava and Horrific James EP on Function Records around November.
Digital + Response
https://www.facebook.com/FUNCTIONDIGITAL
https://www.facebook.com/responseproducer
Response is from up north and he has no hair but we excuse him because of his fantastic tracks on Ingredients, Fresh 86, Mars, Commercial Suicide, Tempo and Function.
Double O + Mantra
https://www.facebook.com/rupturelondon
Double O + Mantra are responsible for one of the best DNB nights in the UK so I'm really happy they're going to bring some of those vibes to the night!
Outrage + Kiat
https://www.facebook.com/outrage.beats
Outrage comes out especially for this night and long may he stay out!
Don't miss this set because it will probably be the most interesting set of the night. (No pressure guys lol) I say this because they're not afraid to experiment in the studio or when they're DJing.
Buy the new Catch A Fire EP by Digital right here including free mp3's
To order the vinyl click the buy now button below.
Comments
comments powered by

Disqus