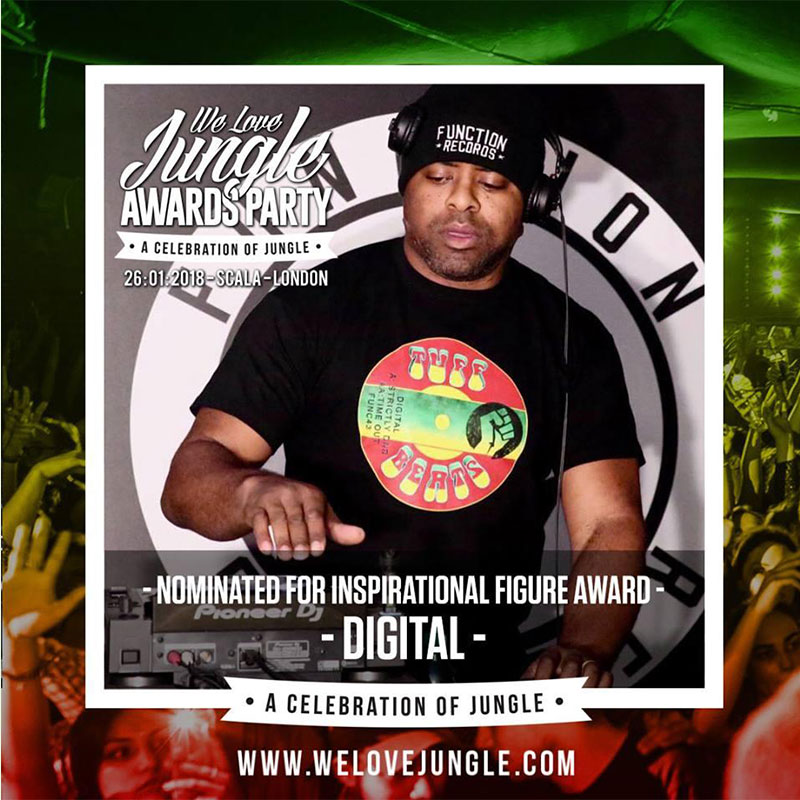 We Love Jungle Awards
Published on 18-Jan-2018.
In this year's 2017 We Love Jungle Awards, Digital was nominated for the title of Inspiration / Pioneer Of Jungle.
Fellow nominees:
Congo Natty, Eastman, Hype, Kenny Ken, Navigator, Nicky Blackmarket, Randall, Ray Keith, Remarc
---------------------------------
Digital
I feel good about this nomination, although I'm shocked! I've never been anywhere near an award so it's an honour to be in the category of "Inspiration / Pioneer of Jungle". Its great to be thought of in the same light as artists I've raved to such as Randall, Ray Keith, Kenny Ken and Nicky Blackmarket - Artists who are consistent and easily some of the best DJs DNB has to offer.
It's nice timing for me because my next release on Function was my first solo record from 1995, "Spacefunk", plus the remastered remixes from Future Bound, Goldie's Rufige Kru, Doc Scott's Nasty Habits, Photek's Special Forces plus a brand new mix from the talented and awesome bloke, Om Unit.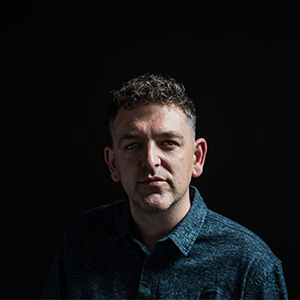 Om Unit
I'm releasing this 2x12" double pack because I want to celebrate Spacefunk as it did wonders early on in my career and furthermore, Rufige Kru, Nasty Habits and Special Forces have been important influences on me and here's why......
Goldie
He encouraged me to be an individual artist. Do whatever feels right to you when producing music. There's nothing you can't or shouldn't do. Don't adhere to a formula. Keep learning.
Goldie: "Spacefunk was a massive part of Metalheadz@bluenote, definitely one of the anthems."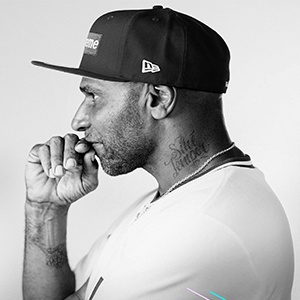 Goldie
Doc Scott
Doc Scott aka Nasty Habits. The man who's made so many brilliant tracks including his sequel of "Here Come The Drums". How the hell did he manage to make every remix superb? Doc Scott has shown that when you're making music there's a sweet spot, so do your best to find it.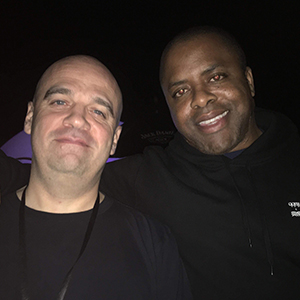 Doc Scott, Digital
Photek
What has Rupert Parkes aka Photek aka Special Forces done for me as a man and artist????,
You can be an amazing producer with everyone on your case throwing anything you desire at you. Plenty of money, a big house, Virgin Records on your case, Bukem, Fabio, Goldie, Grooverider hunting you down for music 24/7, and stay level headed. He still had time for guys like me doing bugger all but clearly keen on getting into music (Source Direct and many others will second this.). The man had time for anyone constructive who approached him, casually helping them in his own particular way. Who knows, it could be the reason I've been into helping people find their feet in the scene. I've been happy to give feedback on tracks whenever I can and I ran a label with Brillo from Timeless Recordings called "L Plates". L Plates was mostly for artists who've never had a release, or have but somehow they've lost their way and needed a little kickstart again. We released tracks from Outrage (aka Nominee) Amit, Baron, Sonic and Silver, Beta 2, Eljay & Ruffstuff, Genotype, Tango & Ratty, J Jay, Xsample & Sol, The Fix and Spinline...................................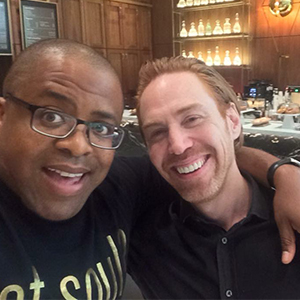 Photek, Digital
This has got me thinking about Concord Dawn's "Morning Light" (Funny that because I'm currently writing this in NZ!)
Matty from Concord Dawn originally hit me with Morning Light for L Plates, well that's what we spoke about when he handed the cd to me in Christchurch, NZ. I listened to the track and loved it so I sent it to Brillo, within weeks it had seriously blown up and most DNB DJs were into it so we decided Timeless Recordings was the best home for it.
Writing this has got me thinking, "Should I relaunch L Plates?"
Running L Plates was a good look for me because I met so many new artists which kept me in the loop and on my toes. Some of these artists became good friends and others went off on to bigger labels which was pleasing and the whole point.
I may have gone off on a tangent there.
Right, the nomination and the reason I mentioned Space funk...
My first outing as a DNB artist was with Danny C on Certificate 18. We called ourselves, "Authorised Riddim" What a fucking awesome name!
My second release was "Touch Me" on Timeless Recordings which was engineered by Rupert Parkes aka Photek, but my first solo track, a track where I pressed all the buttons was Spacefunk. I've been feeling great about the release already but the nomination for Inspiration / Pioneer of Jungle is like the icing on my celebratory cake.
Big Support From Fabio.
I must give Fabio a shout and a thank you for the amazing support he had for me in my early years. He battered Spacefunk for a good 5 or 6 years solid and furthermore, he actually named it......Well kind of lol When he played it on radio 1 it was untitled so Fabio introduced it something like this, "Next up is some Spacefunk bizness from Digital" so I stole it!
Here's a blast from Fabio about Spacefunk...
If there is one track that sums up the power of the Amen Brother's timeless break it's Spacefunk. The Amen break is the most used of all breaks . Yet it is difficult to get it right . On Spacefunk Digital nailed it . The famous breakbeat shines on Spacefunk . Wrapped in strings and bleeps this is hard to beat . It always destroys the dance . No matter whether new or old skool this is the ultimate dancefloor destroyer. Dark and powerful, Spacefunk is the epitome of Amen.
https://functionrecordsuk.bandcamp.com/album/digital-spacefunk-remixes-2-x-12-vinyl-pre-order
Function:al @ Undertone, Cardiff
We're gonna rock some parties in some interesting venues in and around Cardiff with @paranoizecardiff. First we're doing it basement styleee at Undertone with Radio Cardiff Dj, Lubi J, Cardiff's finest, Dj Ransom and Paranoize resident, Dj Character - Making up the numbers will be the legendary Total Science, Digital and the brilliant Blackeye Mc.
Buy Tickets here...
http://www.fatsoma.com/function-records/764lr84q/function-al
Comments
comments powered by

Disqus