Digital - 'Synthesis' Part 1 & Part 2 Vinyl + T-Shirt
Category: Albums
Always innovating and evolving his distinct sound, the bassline architect Digital wanted to have a different approach to this album project. "I've made a conscious effort to move away from an album that has only one sound which is quite the formula these days with electronic music.
With this album, each collaborator contributes their unique styles to a collective synthesised vision." says Digital.
1) 'Stolen Desire' - Digital + Spirit - A smooth dubbed out roller.
2) 'Skull' - Digital + Spirit + Om Unit - Deep heavy and atmospheric.
3) 'Jungle Jaw' - Digital + Nomine - Is full of fun and energy to lift your day, or night.

4) 'War' - Digital + Kiat - Has a brutal rawness in a dub style.
5) 'Lost Life' - Digital + Response - There's something a touch Euphoric about 'Lost Life' and on the other hand it seems very deep, dubby and dirty!
6) 'Rise' - Digital + Mad Vibes & Audio Habitat -Takes you higher.
7) 'Lightworks' - Digital + Klute - Hits heavy but smooth at the same time.
8) 'Catch' - Digital + Total Science feat. Sofi Mari - The lush voice of Sofi Mari sweetens the Ipswich v Bristol sound.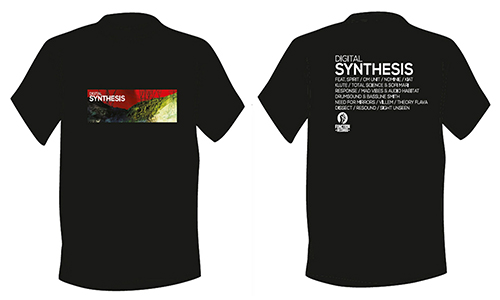 Sleeve and T-shirt design by Kiat http://systemsovereign.com
buy now
£28.00